4th Stakeholder Workshop is free and online – SECLI-FIRM project progress shared
An opportunity to join our free online Workshop 'Seasonal Climate Forecasts for Industry Decision Making' on Monday 15 June 2020 from 9:00–14:00 (UTC) is extended to participants across the water and energy industries, climate science, renewables and beyond.
Learn about the seasonal forecast science, the decision-making and the trial climate service being developed by the EU H2020 SECLI-FIRM project.

The SECLI-FIRM project aims to demonstrate how improved climate forecasts can add practical and economic value in both the energy and water sectors. SECLI-FIRM stands for – Seasonal Climate Forecasting for Integrated Risk Assessment.
This is the fourth in a series of free SECLI-FIRM project workshops. It has been split into two sessions to make it easy for participants to join the most beneficial two-hour slot. All attendees are welcome to be part of both too. Sign-up here
Alberto Troccoli, Project Lead, will provide an overview of SECLI-FIRM at the start of each session and the Workshop will include a variety of speakers.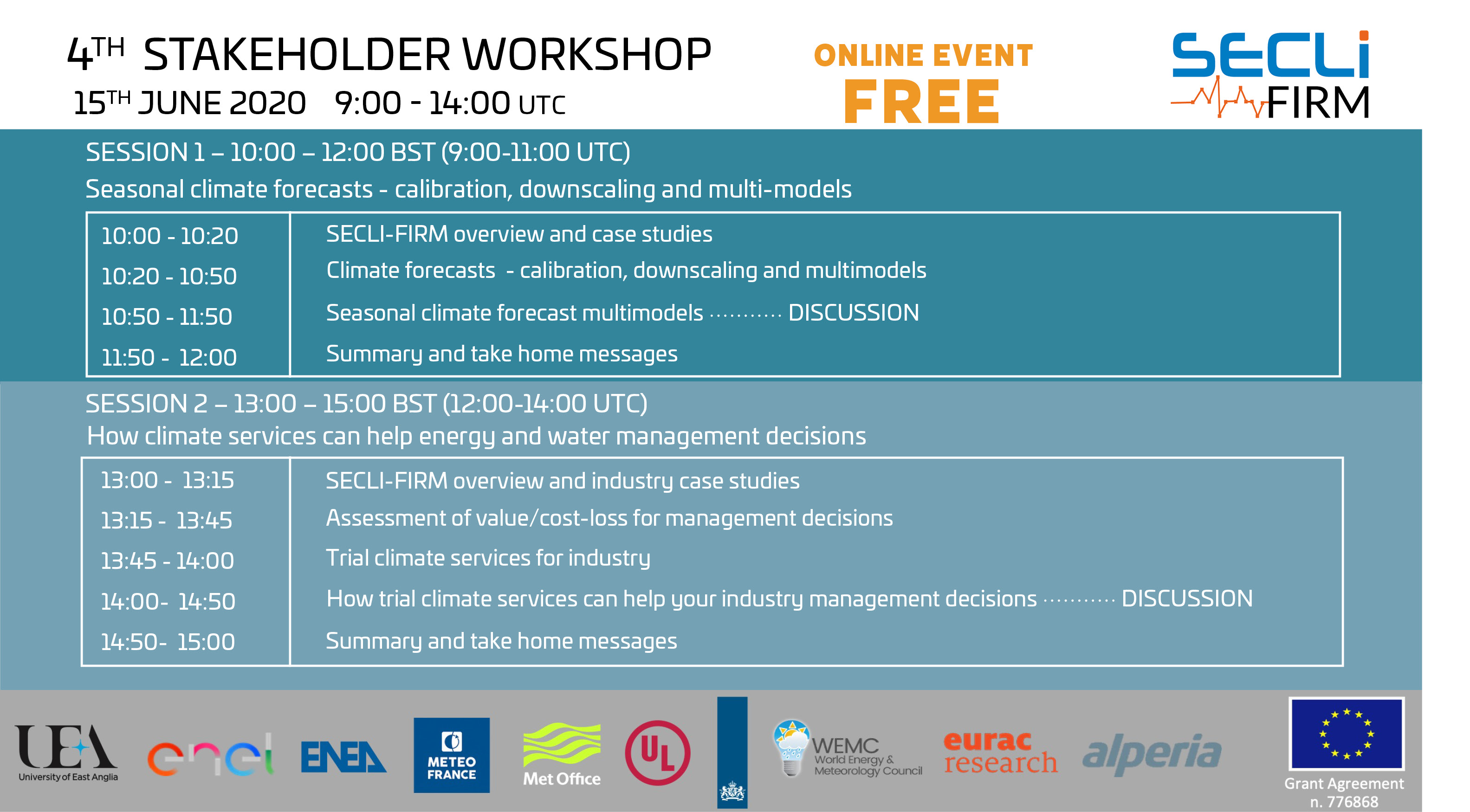 The morning session, 9:00-11:00 (UTC) covers Seasonal Climate Forecasts – calibration, downscaling and multi-models.
SECLI-FIRM scientific climate experts explain how the various aspects of calibration, downscaling and multi-models have been explored and developed to produce the most skilful seasonal climate forecasts using the rich data set collected by the project.
SECLI-FIRM economic experts explain how added value from climate forecast is being estimated with plenty to be learned about how seasonal forecasting could benefit your company. This is followed by a showcase of our trial climate services, you can share your opinions and see how SECLI-FIRM trial services could be tailored for your use.
References to the nine SECLI-FIRM project case studies will enliven discussions with a focus on at least two in each session.
Project Lead, Alberto Troccoli, added:
"Whether you have followed the SECLI-FIRM project from the beginning or are joining anew we look forward to welcoming you online on Monday 15th June. Participation is free."
Join us on 15 June 2020 – register on Eventbrite
Please note: This is the postponed Stakeholder Workshop 4 originally planned for 14 May 2020 in Brussels.