SECLI-FIRM Case Studies – NOW UPDATED FOR 2020
The SECLI-FIRM Case Studies have now been refreshed with the most up-to-date information available from each of our project partners.
After months of hard work from the teams at the UEA, Enel, ENEA, the Met Office, AWS Truepower, KNMI, WEMC, Eurac Research and Alperia, the new Case Study flyers are ready to bring you up to speed on all the advancements so far.
These latest iterations include more findings and conclusions about our research. They also provide a look into our current thoughts on each process. Not to mention the additional next steps we plan to take in each case.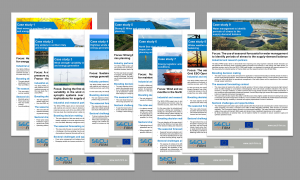 While you're there, why not check out our videos for Case Study one and Case Study seven?
They easily explain what each Case Study is about and what we hope the overall outcome will be for the industry. They're clear, concise and an engaging way to understand what it is we are hoping to achieve.