Announcing the new SECLI-FIRM webinar series
Learn all about the SECLI-FIRM project in our new series of webinars starting 15th Jan 2020 at 11am (UTC).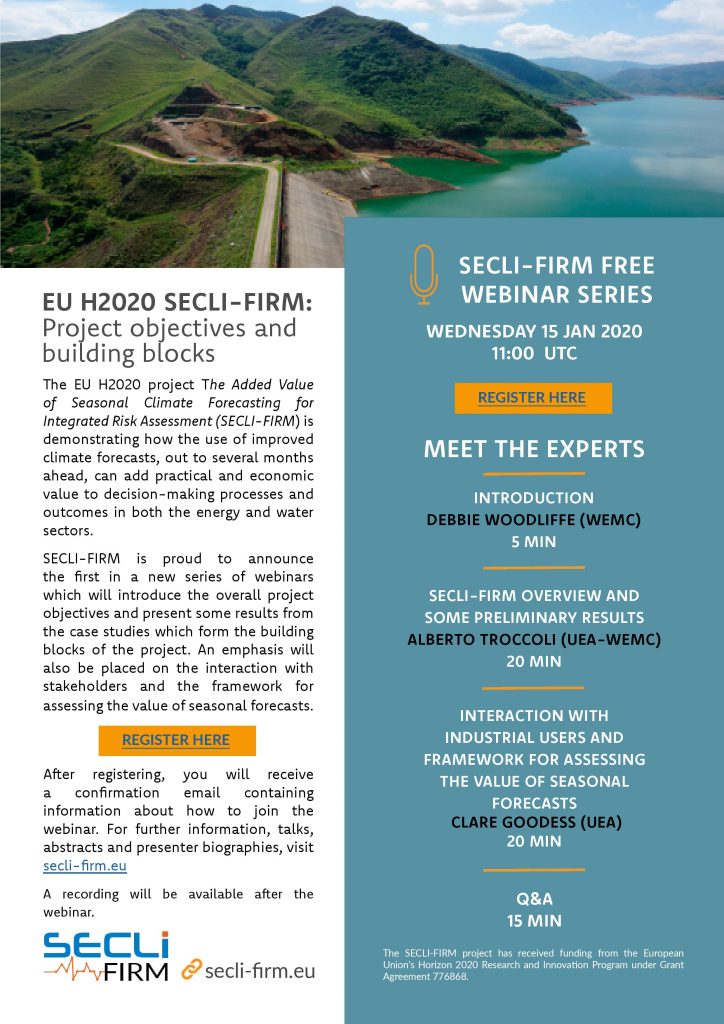 This exciting new webinar series hopes to introduce external stakeholders and end-users to this unique EU H2020 project and demonstrate how the use of improved climate forecasts, out to several months ahead, can add practical and economic value to decision-making processes and outcomes in both the energy and water sectors.
This first webinar of the series will introduce the overall objectives and will present some results from the case studies which form the building blocks of the project. It will also emphasise the interaction with stakeholders and the framework for assessing the value of seasonal forecasts.
Agenda
Introduction – Debbie Woodliffe (WEMC) 5 min
SECLI-FIRM overview and some preliminary results – Alberto Troccoli (UEA-WEMC) 20 min
Interaction with industrial users and framework for assessing the value of seasonal forecasts – Clare Goodess (UEA) 20 min
Q&A – 15 min
Date: Wednesday 15th January 2020
Time: 11am-12pm (UTC)