Climate Services for the Hydropower Sector – Webinar Overview
We hosted our 3rd project webinar with a focus on climate services for the hydropower sector on Thursday 12 November 2020 at 11am (UTC) with presentations from EU Horizon 2020 projects. 
This accessible one-hour opportunity to hear several speakers, two from the SECLI-FIRM project and one from a sister H2020 project CLARA, explored how climate information is used in practice to turn climate science into solutions for the hydropower sector. This was the third free webinar led by the SECLI-FIRM project team.
Alberto Troccoli (WEMC/UEA) chaired the webinar, introduced SECLI-FIRM, as it enters its final year of four, and the range of project case studies across the water and energy industries based in Europe and also South America. Alberto set out the agenda: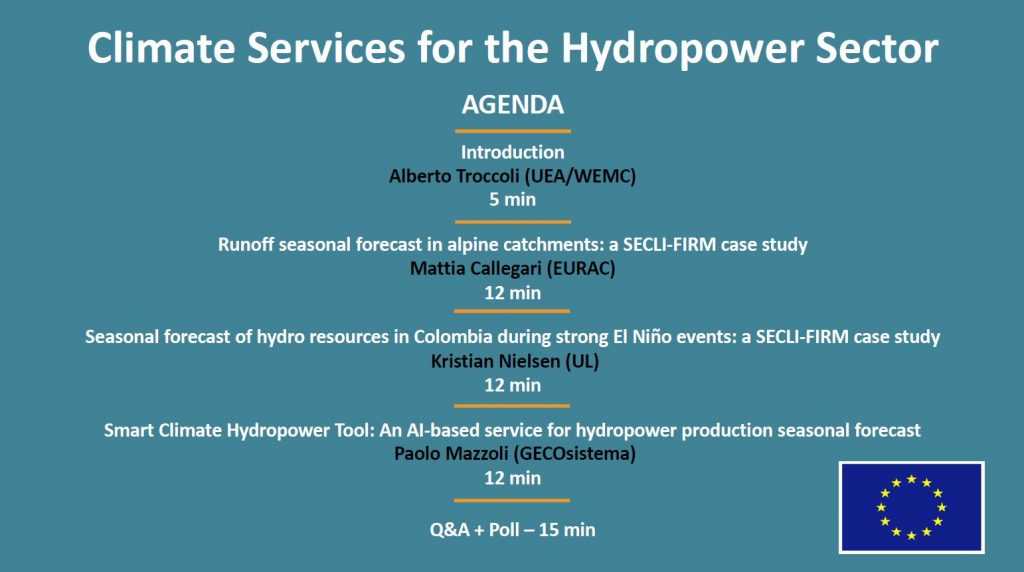 Two of the presentations were from SECLI-FIRM project partners and featured project case studies:
Mattia Callegari from EURAC presented 'Runoff seasonal forecast in alpine conditions' sharing a seasonal forecast method developed for the SECLI-FIRM project and the application of the methodology on a case study related to a hydropower system in South Tyrol in Northern Italy, managed by Alperia, the local energy provider.  Explore the case study further here
Kristian Nielsen from project partner UL presented 'Seasonal forecast of hydro resources in Colombia during strong El Nino events' sharing the methods used in SECLI-FIRM, working with industrial partner Celsia to improve their existing deterministic forecasts of river flow. He also shared some initial project results. Explore the case study further here
We then heard from Paolo Mazzoli from GECOsistema and learnt more about the Smart Climate Hydropower Tool developed through the CLARA Project in close connection and collaboration with ENEL Green Power, who have assets worldwide in the hydropower sector.  View the full presentation here.
We were joined by over 55 attendees on November 12th and our thanks go to the participants who contributed to an informative Q&A with our guest presenters, with discussions ranging from how to better sample the uncertainty of predictions to elaborating further on learning methods.
Missed the webinar? Listen to the one-hour recording at a time convenient to you or review the presentations in our online webinar resources.
Sign-up to our newsletter to hear the latest project developments and opportunities.